Be Inspired!
Subscribe for a free sweet dessert recipe delivered instantly!
This post may include paid or affiliate links.
---
This shop has been compensated by Collective Bias, Inc. and its advertiser. Product was provided by the client for review; however, all opinions are mine alone. #WorldsSmartestToothbrush #CollectiveBias
Tell me guys, what are your holiday weekend travel essentials? When we jump on a plane to visit family, or fly off for a tropical vacation while everyone else is stuck behind shoveling snow, what are your travel bag essentials to keep yourself well groomed and lookin' good?
When it comes to holiday travel, I pack the usual. Everyday clothes, a couple sets of dress clothes, ties, tie clips and all that jazz. Then I start thinking about other essentials. You know, grooming essentials like my electric razor, my Philips Sonicare DiamondClean Smart Electric Toothbrush, beard brush, cologne and all that good stuff. What are your must haves when travelling?
Most of you know me by now and know how I love everything techy. I recently got the Sonicare toothbrush at Best Buy and it's really cool. If you're looking for a gift to give to a tech savvy guy who has basically everything, the Sonicare DiamondClean toothbrush is the gift he needs and doesn't even know he wants…yet!


Click the tag on the image below to learn more and shop!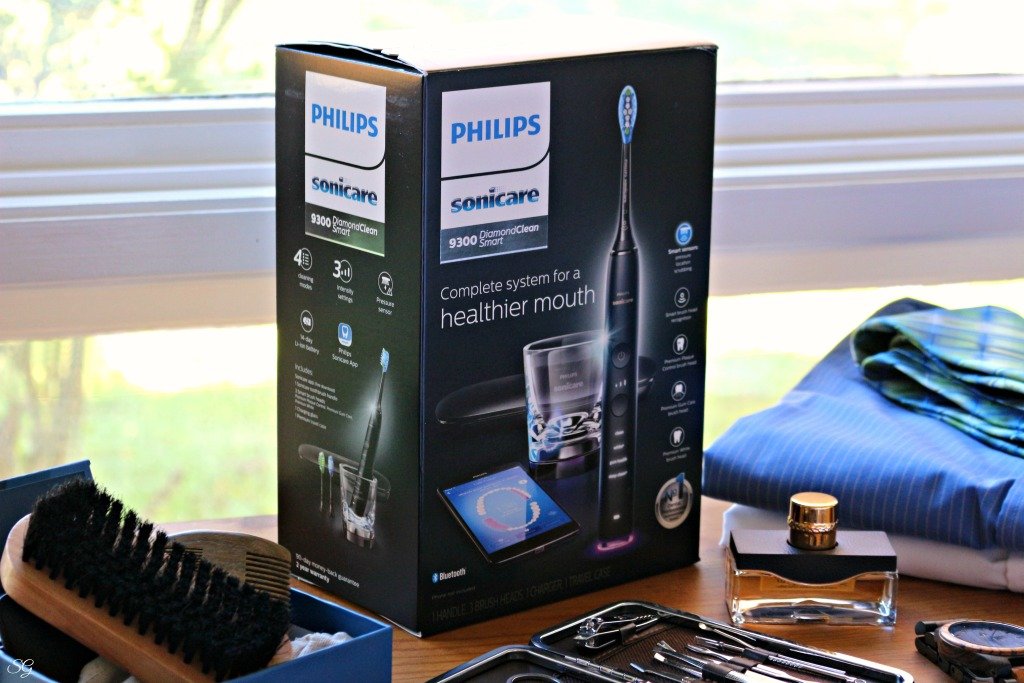 You've heard the phrase "there's an app for that" right? Well, guess what? There's an app for this Sonicare toothbrush too! With the app, you take complete control of your oral health. The chip in the toothbrush will send data via bluetooth straight to your phone.
The data sent to your phone will help ensure each tooth is getting proper care. The Sonicare DiamondClean toothbrush even tells you when to change heads to keep your toothbrush performing its best.
Men's Holiday Travel Necessities
Outside of the normal clothing, deodorant, flip flops and other things that you might toss in your travel bag, these are a few things I make sure I throw into my holiday travel bag.
Beard Brush & Comb
Don't leave home without it. No one likes a scraggly beard, so keep yourself looking sharp with a small beard brush for your travel bag and a comb for your back pocket.



Sonicare DiamondClean Toothbrush
Keep those pearly whites shining bright and your breath fresh while travelling! Sonicare is a number 1 Dental Professional recommended brand. Only the new Sonicare DiamondClean toothbrush comes with four high-performance brush heads and Smart Sensor technology for personalized feedback and coaching right on the app.
Hitting the road doesn't mean you need to suffer with a boring old toothbrush, the Sonicare DiamondClean toothbrush has a nifty carrying case that holds the toothbrush and heads! Take it with you wherever you go.
Seriously, this is a travel friendly tech guy's toothbrush if there ever was one. It delivers superior results and 100% confidence in your oral care – every single time. You'll get healthier gums in 2 weeks* (*vs a manual toothbrush) — It's the tech gift every guy needs!


Cologne
This one is all on you. Grab your favorite scent to take with you on the road. But please, for everyone's sake, don't wear too much when you're travelling by air. There's nothing worse than sitting next to a person with a cologne that you don't like, or with a scent that gives you a headache. Be considerate – no French showers!



Nail Grooming Kit
Keep things tidy with a simple, or maybe a little complex nail grooming kit. This is the one I have. Yes, it's overboard but the only one I found with a travel case. Plus, the wife has been known to go rifling through my suitcase looking for those little scissor things that only a woman would know the correct word for. (haha!)



Dress Clothes
This one is kind of obvious. But if you forget to bring a shirt and tie, you'll never hear the end of it. Amiright, guys? So don't forget to toss a couple of shirts, ties and other dress essentials, like  dress socks and shoes into your suitcase.


If everything your wife has been telling her mother is true, she either expect you to show up in a ripped and stained 80's hair band t-shirt or a $3,000 suit – there's probably no in between in your mother-in-law's mind.  A shirt and tie will do, and will make any MIL happy.
Accessories
When I travel I also like bringing along my snazzy wood watch that Katie got me as a wedding gift! <3 Don't forget other things like tie clips, or cuff links if your shirts do so require them. It's not hard to take things to the next level with a few accessories.



Just these few simple items will take you from travel casual to a well thought out and snazzy guy in 2 seconds flat. When you're headed away on holiday travel, you want to look as sharp as possible right?
And ladies, you want your man to look sharp, especially if it's his first time visiting your family, right? Even if he is a little on the weird side…
With pearly white teeth and fresh breath, a freshly brushed beard, nicely trimmed nails, a nice pair of shoes, slacks, shirt and tie all topped off with a fresh cologne, and snazzy accessories…sophisticated really is simple! There's always a way to make life better.



So next time you're out browsing at Best Buy, make your way over to the gadget aisle where you can find toothbrushes and pick yourself up the Sonicare DiamondClean toothbrush! Now you can care for your whole mouth, teeth, gums and tongue with the world's smartest toothbrush!
This is the perfect gift for yourself or, ladies, for the tech-driven man in your life who has everything and is always looking for the latest and greatest smart technology!
Who will you gift the Sonicare Toothbrush to this year?
Follow Sonicare on Social Media!
Facebook | Pinterest | Instagram
Be Inspired!
Subscribe for a free sweet dessert recipe delivered instantly!